News about College Day at the Races!
A
College Day at The Races at The Maryland State Fair
College Students, stop by for a day of horse racing fun and a chance to win one of multiple $1000 College Scholarships at "College Day at The Races" at the Maryland State Fair!
DATE: Saturday, August 25, 2018
TIME: 1 PM – 6 PM
EVENT CHECK-IN: 12:30 PM – 2:30 PM. The earlier you check-in, the more chances you have to win.
TO BE ELIGIBLE FOR A CHANCE TO WIN (Scholarship winner's names will be drawn prior to races, throughout the day):
Pre-Register by Friday, August 24, at 4 PM.

Check-In (Food Vouchers provided at Check-In to registered individuals).

Have your College/University ID and valid photo ID.

Must Be Present.
CONTACT:
LOCATION: MD State Fair Top Floor North End of the Grandstand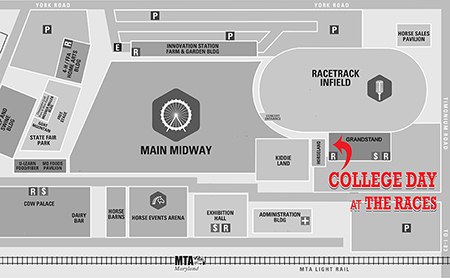 Come out to "College Day at The Races," it's all about horses!
How do you bet? You'll find out and have the opportunity to place your first bet.
Check out tip sheets, programs, and everything that goes along with horse racing.
Hang out with old friends, meet new friends, and be prepared to have your photo taken in the Winner's Circle should you win one of the many $1,000 Scholarships.
Watch the races from the Grandstand or next to the rail.
Visit Horseland.
Meet a jockey.
Pet a retired race horse.
Enjoy plenty of fun photo ops, including trying on authentic jockey silks and more.
Watch 4-H English Horse Shows in the Horse Show Arena.
Didn't find time to register, still come out to the fair with your friends and enjoy College Day at The Races activities and more! Be sure to bring your College/University ID and valid photo ID for FREE admission.
Don't get stuck in traffic and parking, take the Light Rail to the Maryland State Fair. If you do decide to drive, park at the Light Rail lot on Deerco Road (FREE on a first-come, first-served basis) or just UBER/LYFT.
You won't leave empty-handed with all of the fun swag from a variety of horse industry reps.
College Day at The Races is proudly sponsored by:
Country Life and Merryland
Dark Hollow Farm
Maryland Horse Breeders Association
Maryland Horse Council
Maryland Horse Industry Board
Maryland Jockey Club
Maryland Million
Maryland State Fair & Agricultural Society Inc.
Maryland Thoroughbred Horseman's Association Inc.
Terms & Conditions: The Scholarship monies will be made payable to the winner's school and sent directly to each institution after College Day at the Races. Individuals winning scholarships must provide proof of current enrollment in an accredited college or university. Scholarships will be provided for the Spring 2019 semester.
Must be 18-years-old or older to bet on the races.